Now available via Amazon.  http://www.amazon.com/Poetry-Pickaninny-Christian-Sin/dp/146116804X/ref=sr_1_1?ie=UTF8&s=books&qid=1308531871&sr=8-1
The amazing movies "Affirmative Blacktion" and "Grand Slam: Little Big League IV" received several honorable mentions at the XX Factor awards.
I'm glad that I'm not the only one who thought it was odd for Michelle Obama to wear a dress with oil spills on it. Didn't someone pull her aside and say…"Duh, not really cool to wear that dress."
Affirmative Blacktion is the greatest interracial sex comedy ever.
OK, so the new GaGa video is fierce….here's my interpretation,
She is born, not really born, but more like genetically hatched….just to become a Russian whore….She is bid on for the first time and is so special that the leader of the futuristic Russian mob wins her, because only the leader can have someone so special….Then her clothes change to red as she walks up to the bed in a dead polar bear….this can only mean that she's offering up her virginity to him….as she gets closer to the bed we realize how special she is, she is too much for just one man, her perfection getting close to him sets him aflame.   And scene.
THE JOB – URINE TEST (I sure would like to know who wrote this one! They deserve a HUGE pat on the back!)
I HAVE TO PASS A URINE TEST FOR MY JOB… SO I AGREE 100%.  Like a lot of folks in this state, I have a job. I work, they pay me. I pay my taxes and the government distributes my taxes as it sees fit. In order to get that paycheck,I am required to pass a random urine test with which I have no problem. What I do have a problem with is the distribution of my taxes to people who don't have to pass a urine test. Shouldn't one have to pass a urine test to get a welfare check because I have to pass one to earn it for them?  Understand, I have no problem with helping people get back on their feet. I do, on the other hand, have a problem with helping someone sitting on their ASS, doing drugs, while I work. . . . Can you imagine how much money the state would save if people had to pass a urine test to get a public assistance check?  Pass this along if you agree or simply delete if you don't. Hope you all will pass it along, though . . . Something has to change in this country — and soon.
BY THE PRESIDENT OF THE UNITED STATES OF AMERICA
A PROCLAMATION
"Forty years ago, patrons and supporters of the Stonewall Inn in New York City resisted police harassment that had become all too common for members of the lesbian, gay, bisexual, and transgender (LGBT) community. Out of this resistance, the LGBT rights movement in America was born. During LGBT Pride Month, we commemorate the events of June 1969 and commit to achieving equal justice under law for LGBT Americans.
LGBT Americans have made, and continue to make, great and lasting contributions that continue to strengthen the fabric of American society. There are many well-respected LGBT leaders in all professional fields, including the arts and business communities. LGBT Americans also mobilized the Nation to respond to the domestic HIV/AIDS epidemic and have played a vital role in broadening this country's response to the HIV pandemic.
Due in no small part to the determination and dedication of the LGBT rights movement, more LGBT Americans are living their lives openly today than ever before. I am proud to be the first President to appoint openly LGBT candidates to Senate-confirmed positions in the first 100 days of an Administration. These individuals embody the best qualities we seek in public servants, and across my Administration — in both the White House and the Federal agencies — openly LGBT employees are doing their jobs with distinction and professionalism.
The LGBT rights movement has achieved great progress, but there is more work to be done. LGBT youth should feel safe to learn without the fear of harassment, and LGBT families and seniors should be allowed to live their lives with dignity and respect.
My Administration has partnered with the LGBT community to advance a wide range of initiatives. At the international level, I have joined efforts at the United Nations to decriminalize homosexuality around the world. Here at home, I continue to support measures to bring the full spectrum of equal rights to LGBT Americans. These measures include enhancing hate crimes laws, supporting civil unions and Federal rights for LGBT couples, outlawing discrimination in the workplace, ensuring adoption rights, and ending the existing "Don't Ask, Don't Tell" policy in a way that strengthens our Armed Forces and our national security. We must also commit ourselves to fighting the HIV/AIDS epidemic by both reducing the number of HIV infections and providing care and support services to people living with HIV/AIDS across the United States.
These issues affect not only the LGBT community, but also our entire Nation. As long as the promise of equality for all remains unfulfilled, all Americans are affected. If we can work together to advance the principles upon which our Nation was founded, every American will benefit. During LGBT Pride Month, I call upon the LGBT community, the Congress, and the American people to work together to promote equal rights for all, regardless of sexual orientation or gender identity.
NOW, THEREFORE, I, BARACK OBAMA, President of the United States of America, by virtue of the authority vested in me by the Constitution and laws of the United States, do hereby proclaim June 2009 as Lesbian, Gay, Bisexual, and Transgender Pride Month. I call upon the people of the United States to turn back discrimination and prejudice everywhere it exists.
IN WITNESS WHEREOF, I have hereunto set my hand this first day of June, in the year of our Lord two thousand nine, and of the Independence of the United States of America the two hundred and thirty-third."
So, apparently I have a high skewl reunion coming up.  That's really fucking with my mind.  I've asked the skewl librarian to email me a copy of the year book because I can't for the life of me remember any of these bitches I went to HS with.  It's like WTF?  Who are these people?  I actually spent 4 years of my life, 8 hours a day with all of these bitches and I can't seriously remember a single one.  Plus, this librarian chick, who was super nice to have emailed me this shit only sent me like 100 pictures.  Now, my skewl had about 2,500 people, so the senior class had to be about 400 at least.  What happened to the other 300 people?
Anyway…it's pretty fucked up that I have a 10 (achmmm…cough…cough….cough) year reunion coming up.  I still feel like I'm 18.  WTF?  That's some pretty fucked up shit right thar.  I still remember the senior talent show where I played guitar on "What About Love".  It was fucking YESTERDAY!!!  HEART still fucking RULES!!!

As I'm sitting here trying to listen to some Debbie Gibson a bug flew in my eye.  It was pretty bothersome.  I tried rubbing my eye and that just made it worse.  So I tried talking to the bug.  I was all like, "Hey, Bug!  Get out of my fucking eye."  And the bug didn't answer, it just kept bothering my eye and I couldn't concentrate on the lyrics.  I got half way through the chorus of "Shake Your Love" before that fucking bug was bothering my eye again.  I had to end up going to look in the mirror and it turns out it was just an eyelash.  Oh well, my bad.  It was still a very bothersome experience.
Damn, I keep forgetting to update this shit.
I went to the Bay Cafe with some relatives who were visiting. We ate while waiting for a bay cruise. I had a $9 cheeseburger (Which was delicious.  Probably had spit in it) and a $5 glass of white wine piss water in a Dixie cup. Total $14. I sign the receipt for $14. When I check my bank statement a few days later I see that the Bay Cafe actually charged me $16.80. $2.80 more than the receipt I signed. What is this for? I don't know. It's exactly 20%, did they add a tip without asking AFTER I signed the receipt? Who knows? Should I have tipped for standing in line and ordering and then going up to get my meal when they call my number just like McDonalds? NOT! Beyond that, I can't get an explanation from anyone at the Bay Cafe. I called on the day I discovered the overcharge and got voicemail even though it was during business hours. I tried calling the main office to the cruise excursions, who runs the cafe, and also got voicemail during business hours. After 2 days of calling I finally reached the cafe and the woman who answered was EXTREMELY rude even before I told her why I was calling. She refused to let me speak to a manager and even refused to give me his name. When I asked for the 3rd time she said "John". Could be his name, but I have a feeling she made it up. I later got a hold of the main office who put me to the voice mail of someone named Brad Ingel who is supposed to be in charge of everything. Still awaiting his call, I'm not hopeful to receive a call back. Yes, it is only $2.80, but imagine all of the tourists who come in from overseas and don't realize they've been ripped off due to the varying exchange rates. And who is going to call to get a $2.80 refund if they are from overseas? Quite a racket they have going. I plan on disputing the entire charge with my bank and reporting these crooks to every consumer agency I can find.
Later I finally got a hold of them and the same stupid bitch answers the phone and again gives me the third degree before she'll let me speak with the manager.  Just transfer my call, BITCH!  It turns out his name is actually John.  He comes on and gives me a fucking attitude.  Really, dude?  I've called a dozen times because you've ripped me off and you're giving ME an attitude.  He passes me on to some stupid bitch in accounting, Miriam Dominguez, who actually emails me in broken English.  This scheming ignorant bitch tells me that it is MY BANK who takes an additional 20% authorization in the event that I want to leave a tip and they do this for EVERY restaurant.  FIRST THE FUCK OF ALL, BITCH…YOU'RE "CAFE" IS A FUCKING BURGER STAND!!!!  Why the fuck would I give a 20% tip to someone at a fucking burger stand?  Secondly, I eat out for lunch EVERY Fucking DAY and have banked at the same bank for 10 years, don't you fucking think I'd notice before now if MY BANK were holding an additional 20% authorization every time I eat at a restaurant?  Lastly, I've worked with credit cards before, BITCH!  I know the difference between an authorization and a charge.  I've NEVER been to a place or worked at a place where you authorize more AFTER the customer has signed the final receipt.
At the end of the day they only charged $14 and not the $16.80.  If totally fucking sure that if I hadn't called and been a bitch about it that they would have charged the full $16.80.  I mean SERIOUSLY, WTF?  These people are totally ripping people off and hoping that nobody notices.  FUCK YOU BAY CAFE!   FUCK YOU SAN DIEGO HARBOR EXCURSIONS!
By the way, I just checked my messages and this dumb fuck Brad Ingles, the "In Charge" guy just left a message.  FIVE FUCKING DAYS LATER!  I didn't even bother to listen to it yet.  We'll see what this lazy fuck has to say.
Ann Coulter Quotes
"These broads are millionaires, lionized on TV and in articles about them, reveling in their status as celebrities and stalked by griefparrazies. I have never seen people enjoying their husband's deaths so much." -on 9/11 widows who have been critical of the Bush administration
"We need somebody to put rat poisoning in Justice Stevens' creme brulee. That's just a joke, for you in the media."
"Liberals love America like O.J. loved Nicole."
"There are a lot of bad republicans; there are no good democrats."
"We need to execute people like (John Walker Lindh) in order to physically intimidate liberals."
"Whether they are defending the Soviet Union or bleating for Saddam Hussein, liberals are always against America. They are either traitors or idiots."
"We should invade their countries, kill their leaders, and convert them to Christianity."
"Liberals are stalwart defenders of civil liberties — provided we're only talking about criminals."
"The New York Times editorial page is like a Ouija board that has only three answers, no matter what the question. The answers are: higher taxes, more restrictions on political speech and stricter gun control."
"My only regret with Timothy McVeigh is he did not go to the New York Times Building."
"Usually the nonsense liberals spout is kind of cute, but in wartime their instinctive idiocy is life-threatening."
"We've finally given liberals a war against fundamentalism, and they don't want to fight it. They would, except it would put them on the same side as the United States."


"If John Kerry had a dollar for every time he bragged about serving in Vietnam — oh wait, he does."
"Press passes can't be that hard to come by if the White House allows that old Arab Helen Thomas to sit within yards of the President."
"The swing voters — I like to refer to them as the idiot voters because they don't have set philosophical principles. You're either a liberal or you're a conservative if you have an IQ above a toaster."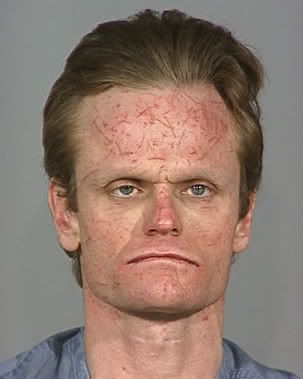 Asshole
My blog is not meant to be read by douchebags named Paul Raposo.  Fuck you, dude!
So…I've been taking a writing class.  It's a community college type of thing and since it's in West Hollywood I'd hoped that there would be hot guys there.  I was sadly mistaken as the class is mostly filled with hot mess and old people.  Anyway…I deal. 
On Monday I assumed the session would be the same as usual…wrong!  A few minutes after the class starts I look up and see this vision walking into the room and he comes right up and sits directly in front of me.  I hear the sound of a choir and the voices of angels.  This guy is STUNNING!  The only word to describe him is stunning, STUNNING!  My idea of the PERFECT man.  After five weeks this Heaven sent creature walks in.  Wow!

Needless to say I didn't hear a fucking word the instructor said for the next hour and a half as I sat with my mouth open, totally focused on this guy.  I think she caught me staring at him a few times too.  Oh well.  I totally composed poems in his honor and even named our children and decided where they'd go to university.  I think Princeton will do.

When the half point of the class came we were given a break.  I rushed to the rest room to check myself out and make sure I was presentable enough to meet my husband.  When I got back out these two WHORE SKANK CUNT SLEEZEBAG BITCHES were already talking to him.  Cock blocking TRASH!  I thought for a moment about interrupting them and knocking the whores down onto the pavement, but I didn't want to make a bad impression on him.  One of these chicks already told the class that she's a young mother and she regrets having her kid, so I thought about going up to her and asking how her kid was or if she managed to get rid of him yet.  That wouldn't have been classy, so I just watched her and the other hatchet faced TRAMP giggle and flirt with him like COMMON STREET WALKERS.

I'm not really worried about the competition, 'cuz the one chick is a bitter single mother and the other looks like she's eating fire.  Hopefully he has more sense than to fuck either one of them, but you never know.

I spent the rest of the class trying to impress him with my wit and humor.  You know how it goes when you're trying to impress someone, it usually backfires.  The rest of the class is looking at me like "What the fuck!", since during the past five weeks I've barely spoken a word and now suddenly I'm Lisa Lampanelli.  Plus, my wit and humor usually comes off to most people as bitchy and cunty, so hopefully I didn't make him think I'm an asshole.

At the end of the night I didn't even get to talk to him alone.  Oh well.  So, basically the rest of this week is being spent on a dieting and exercise regime.  I've also come up with a multitude of Lucy and Ethel type schemes to set in motion next Monday.  We'll see how I do.
So, I finally came into the 21st century and got Tivo.  It's an interesting little device.  I'm not sure yet what the big deal is, but I guess I'll figure it out.
In all seriousness, is John McCain fucking kidding with this Sarah Palin nonsense?  This woman is nothing more than common trailer trash.  She's like Britney Spears, but without the class.  She can barely put words together to make a complete sentence.  She speaks in some sort of Alaskan Ebonics and acts as if she just got off the short bus.  Alaska must be a pretty fucked up place if this is the best they've got.  I think McCain must seriously be deliberately trying to lose this election, which is fine by me.
Next Page »